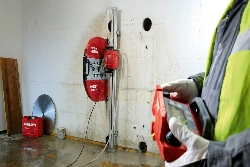 What is Wall Saw Cutting?
Wall saw cutting Services, also known as track saw cuttting, is the most effective cutting solution for vertical or sloped surfaces made of concrete, reinforced concrete, stone, asphalt, or cinder block. Wall saw cutting uses a circular diamond blade, usually attached to a track-mounted machine, allowing for precise placement of the saw cut. The track system enables the wall saw cutting to be attached to just about any horizontal or vertical surface, including steep inclines and floors. Wall saws run on hydraulic, air, or electric power—and can make both straight and bevel cuts. The wall saw is an excellent choice for creating precise openings in any concrete structure.
Wall Saw Cutting Experience
Wall saw cutting is one of the cornerstone concrete cutting solutions offered by Dubaiservices Cutting—and a procedure that requires specialized experience and expertise. We have both. Dubaiservices Cutting uses wall saw cutting when creating openings through reinforced concrete walls and slabs, in addition to numerous other applications. Wall saws are known not only for their precision cuts and speed, but also for their safety—when in the hands of experienced operators.
Mobile: 050-4991957
Whatsapp: 050-4991957